1) Weather ; Seriously, it's cold for 9 months of the year except maybe SW BC and southern Ontario…
2) Bugs when the weather isn't so bad. The farther north you are the larger and more hungry the mosquitoes and black-flies get!
3) Taxes; PST, GST, Fuel tax, income tax, Capital gains(Example, multi-generation family home you gift it to your kids, next tax year the government estimates what it would be worth(say 100,000) and demands capital gains from you the following year(22-40% depending on tax bracket)).
4) Canadian TV/Internet Media. TV fails to report many stories and when some are it's reported selectively online such that if it goes against the view the state wants its citizens to take, commenting is not allowed and stories shelved. Ref. Ref. Ref.
5) Milk/Dairy/Poultry Boards (Double the price of milk/cheese) Ref.
6) Wheat Board
7) CRTC, Ref.
8) Healthcare ; Waiting months for MRI's and cancer treatments; THAT would otherwise be treated the same week in the USA/w minimal insurance.
9) Quebec ; Let them be free! Would save a fortune dropping bilingual requirements and their people(Quebec gets a disproportionate amount of funding because they are whiny and threaten to leave, yada yada… Get out, take the debt you created with you and pissoff).
10) Canada has different definitions for, and requires expensive licenses and training for Ultra-Light Aircraft. Unlike the Americans.
11) Canada "Limits" hence does not have free speech. ref. ref.
12) Canada limits your ability to defend yourself and your property. Ref. Ref.; There was a serial killer moving randomly around New Brunswick, killing everyone in the home he chose to stay at, the police couldn't find him, but they could send officers to stop the sale of guns to local citizens looking to defend themselves. ; I saw news reports at the time, if anyone has more detail on this or others. send in some references, thx.
13) The Canadian government(There is no difference between which major party is in power at any given time) works tirelessly to remove freedoms and privacy from its slaves. Ref. Ref. Ref. Ref. Ref. Ref.
14) Police/Legal system, and media under the direction of the government disclose information in a false way to hide reality. For Example: There is no rape in Canada, only sexual assault(which may or may not mean rape). When a long dead decomposing body is found off a public beach, reports say "victim was declared dead at hospital.". With this being standard practice, who knows what else they are white washing. Ref.
15) Seatbelt, motorcycle and bicycle!! helmet laws. The ONLY defense to these laws is it 'saves lives', that argument to anyone who thinks freedom first is totally bullshit because the same one can be used to dictate what you eat, and even activities you do.
16) Pollution, At least here in Atlantic Canada… North America's Tail pipe. Ref. Ref, Ref. Many industries found to be too toxic/polluting in the US were moved to Canada. Ref.
17) Ignorant or complacent citizens. Don't get me wrong, Canadians are friendly and generally well educated, but there is no will to change, only go with the flow. Politicians blatantly lie and go against promises and there is no recourse. Bread and Circuses!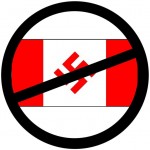 The flag above was made to symbolize the direction I believe Canada is headed in. People didn't get it, so I drew a big 'no smoking' ring around it.