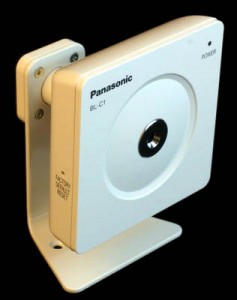 Panasonic has been in business for a while now, and their name increases price point somewhat. Over the last couple of years I have purchased a number their BL-C1A cameras paying about $40.00 each.
The software on the camera is very clean with most every feature you could hope to have with exception to the ability to place a filename of the image in a notification email on triggering of an event(motion detection say). The software seems compatible with most other Panasonic Network Cameras, and using the Multi-Camera page you can see up to 12 on a single page(updated every 3 seconds). There is also nothing stopping you from loading up multiple browsers to view even more simultaneously.
Camera Strengths:
Excellent low light performance.
Motion detection and email and/or ftp on triggering.
Digital Zoom; Really it does something 'more', see below.
Bandwidth Throttling * Very important in multi-camera systems.
Weaknesses:
No Infrared support
Power supply


Power Supplies included with these adapters are faulty! Model#: PQLV206, 3 failures so far, and after researching the issue, I expect more too fail. So include the costs of replacements in your budget.
Digital Zoom, is implemented properly on these cameras, the first I've seen. It is unusual in that, when viewing motion images at say 320×240 and you zoom in, it will take data from the maximum resolution the CCD will support(640×480). Believe me, it helps!
I could go into more detail with screenshots and all that, but why re-invent the wheel, Panasonics manual is well done.
Look at the fun this guy had with a BL-C1A!
Rovio Unboxing… User Review… »« No-name (WiFi) IP Camera ; China ; Foscam Clone