I took a chance and purchased one of these cameras new in an ebay auction for $64 shipped. Overall I would say it was worth it, but it would sure be nice to be able to tweak the ActiveX(Java would be so much nicer) software and or the software on the camera. Please comment if you know how…
The biggest negative I have to say is that there doesn't seem to be any network throttling capabilities, and that the ActiveX program automatically tries to save event triggered video to the hard drive of current viewers, with no apparent option to disable.

No-Name China Camera

versus

Panasonic BL-C1A
The internal speaker is terrible, and the microphone only of much use a few feet away from the unit. Although it can pickup a knock on the door in the next room, it is considerably low.
The good news is it does seem to be possible to install external microphone/speakers but one would have to do some wiring/find adapter.
http://IP-or-domainname:port/videostream.asf as a link in VLC media player with steam audio and video directly from the camera.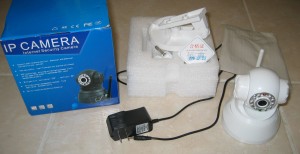 IPCAM_PT2_V3.1f
5V DC 2 Amp Power Supply
Inside One, Two, Three
Inside Four, Five, Six.
User Review: Panasonic BL-C1A aka PetCam »« Baked Amarillos – Plantains